Rotorua's Sam Osborne and Samantha Kingsford have started the 2019 Xterra Pan American Tour with a bang, winning the elite men's and women's races respectively at Xterra Brazil.
Osborne, who is the reigning Xterra Asia-Pacific Tour champion, decided to shake things up this year.
"The decision was really brought about by the timing of the races, America just works a bit better than what Europe did this year and I wanted to avoid getting into the same situation I did last year of over racing to chase points," Osborne says.
"It's something new and it really excited me to go and race a different tour. The current world champion is in the US at the moment and he's obviously the benchmark of where you need to be. There are some proper weapons on the bike over here and that's an area I want to focus on this year," he says.
He could not have asked for a better start to his new challenge than a win at Xterra Brazil, his second in a row this season following his victory at XTERRA New Zealand in Rotorua in April.
"There were a few unknowns for me, I had only seen the other guys on paper leading into this and hadn't really raced them before but I was well aware of how powerful [three-time Xterra Brazil champion] Felipe Moletta was on the bike and run, especially on the steep stuff which this course had plenty of. He's won this race five times and taken some really big names on this course so in my mind he was the man to beat."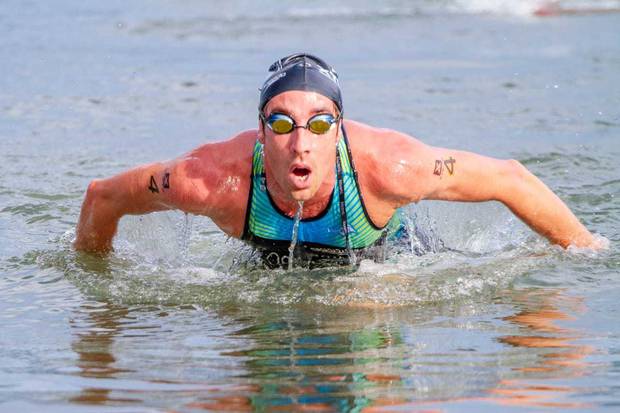 Osborne came out of the water in second place, about 30 seconds behind Brazilian Marcus Fernandez, and just ahead of German Sebastian Neef. Once on the bike it was all Osborne, as he took the lead in the first kilometre and never looked back.
"I didn't want to muck around, knowing what was coming behind. I didn't get any help from the Brazilian guy, he was not keen on helping out, but I managed to get away from him in the next technical section.
"I just tried to get into my rhythm and just sit on the red line, I had in the back of my mind that Felipe would be closing and I wanted to make it as hard as possible for him to do it. As it ended up, I took one minute out of him on the bike to go into transition with a three-minute lead."
He survived the gruelling run to take the tape in 2h 19m 54s, just 40 seconds in front of Moletta, who posted the fastest run split of the day in 39m 26s.
"I've had a really good block after Xterra Rotorua, which is something I haven't really managed to get in so far this year. I had been struggling with a knee injury from the crash I had in Australia at the start of the year but I seemed to have kicked it and finally got that good block of uninterrupted training in.
"[Brazilians] are some of the most passionate sports fans out, and they knew where they were going to get the best action. There were lots stationed around the technical descent and the steep climbs to see maximum hurt.
"The roads here are pretty chaotic and we essentially had a rolling traffic management system, three guys on motor bikes, clearing in front of us, stopping traffic and trying to keep the feral dogs out of the way."
Meanwhile, Kingsford finished the women's race in 2h 53m 57s, ahead of Chile's Valentina Carvalho (2h 59m 22s) and Brazil's Sabrina Gobbo (3h 9m 16s), for her second career major title after winning Xterra Albay last year.
Kingsford started so strong in the swim she was mixing it with the elite men and by the time she got to the midway point and the notorious pier-jump to start the second lap there were no other elite women in sight.
She came out of the water with a two-minute lead and was able to cruise to victory from there.
Xterra Brazil Results
Men:
1st Sam Osborne, ew Zealand, 2h 19m 54s, 2nd Felipe Moletta, Brazil, 2h 20m 34s, 3rd Sebastian Neef, Germany, 2h 22m 59s.
Women:
1st Samantha, New Zealand, 2h 53m 57s, 2nd Valentina Carvalho, Chile, 2h 59m 22s, Sabrina Gobbo, Brazil, 3h 9m 16s.